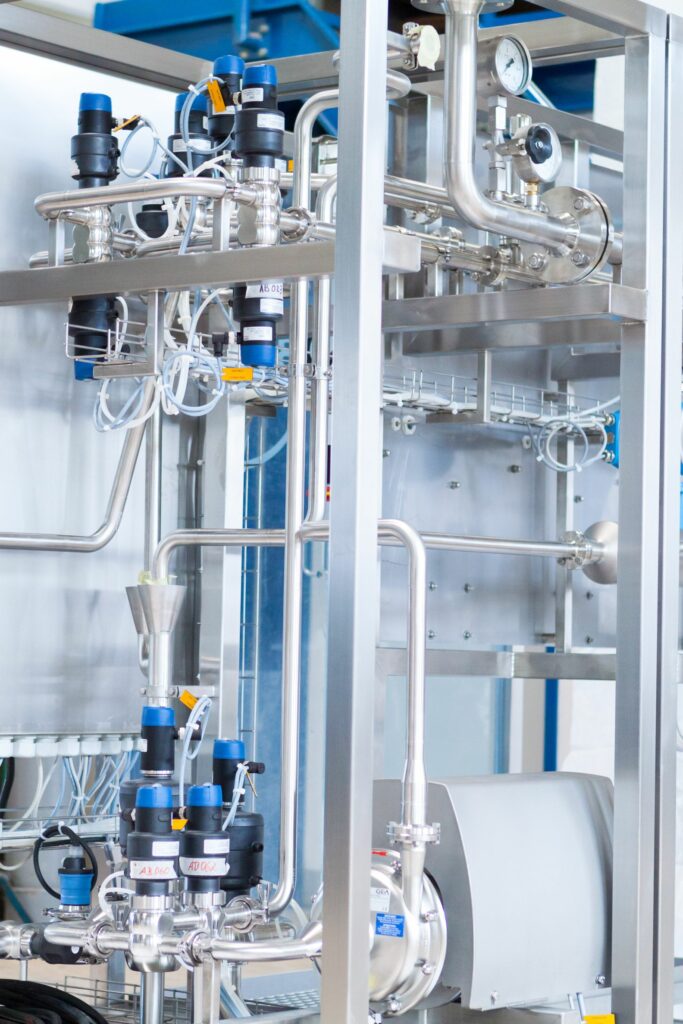 Modern plant engineering, especially in the pharmaceutical and food industry, comprises the planning and implementation of zero-defect cleaning plants.
The demands on these systems are of increasing importance in the food and pharmaceutical industry.
An effective cleaning comprises the removal of residues and particles with a through-flushing of the system components and conduits. An optional subsequent disinfection destructs organism. CIP (cleaning in place) and SIP (sterilisation in place) describe a localized cleaning of process plants, whereas WIP (washing in place) requires a much higher amount of manual work in the cleaning process. Wellmann engineering brings unlimited flexibility to its customers and offers customized CIP / SIP / WIP solutions for the cleaning process and sterilization for all requirements. To ensure highest product quality all technical and pharmaceutical requirements are always considered, depending on the validation requirements and the manufactured pharmaceutical product.
For years, Wellmann successfully designs and implements CIP/SIP/WIP systems according to customer requirements. The scope of service includes planning services, development of an automation concept as well as installation of the plant, components and pipelines. Wellmann supplies process plants and cleaning concepts: from one single source.
As a supplier for process plants and cleaning concepts Wellmann offers all-in-one solutions to its customers.
In addition to planning services also include the development of the automation concept and the installation of the equipment, components and piping of the scope. Wellmann supplies equipment and cleaning concepts all from one source.
Usually CIP systems are fully automated, with fixed defined cleaning programs and variably adjustable temperatures.
Due to the high degree of automation a faster cleaning, water and detergents reduction and less effort is achieved. CIP systems are fixed units and require little or no assembly / disassembly work. By a programmed pre-purge particles are flushed out. The cleaning temperature is around 90°C depending on specific applications. After flushing, the pipelines and components are pumped with lye. After flushing with water, a final acid rinsing proceeds.
As a first step of cleaning, product residues must be dissolved and flushed out of the plant. Depending on the local conditions CIP-systems either operate with fresh supplied water at each cleaning cycle or with an environmentally friendly closed cleaning circuit. To prevent scorching or crystallisation, a temperature close to the production temperature is used, mostly cold or lukewarm. After a slow heating the cleaning lye is pumped through the plant system. Fixed parameters such as temperature, speed, concentration and time are thereby continuously monitored by measuring and control technology to ensure reliable control and documentation.
The lye is then flushed out with water. A subsequent acid rinse dissolves inorganic coatings, kills remaining microorganisms and neutralise any lye residues. A final step of purification is the disinfection which destructs any surviving organisms and is incessant for quality assurance.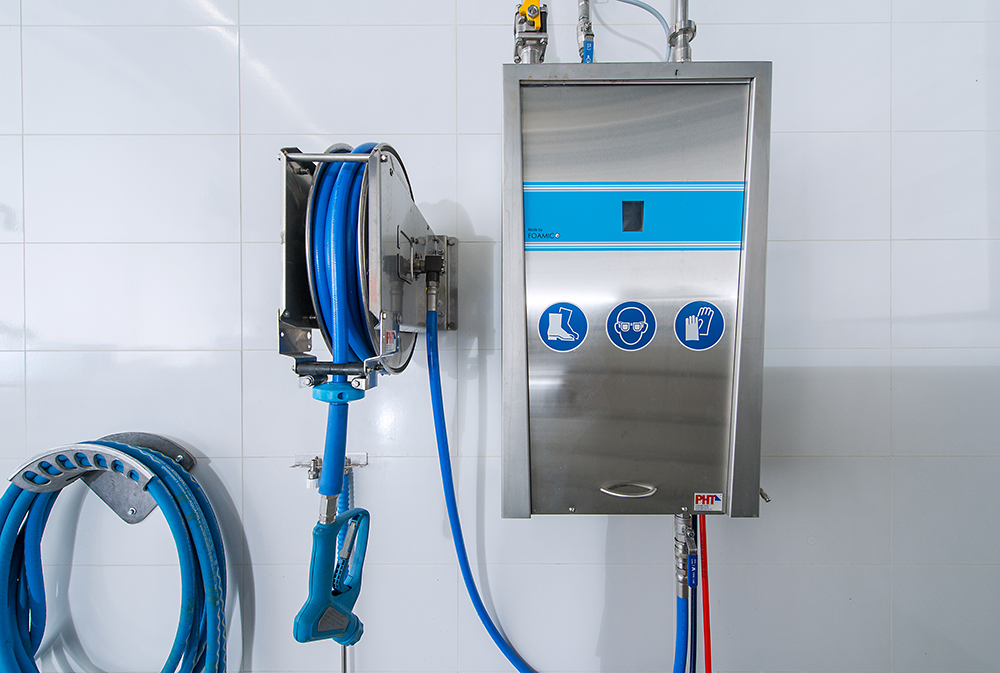 The SIP method uses a higher temperature than the CIP process to kill microorganisms.
Media used in this method are hot water or saturated pure steam. The sterilizing effect of temperatures up to 140 ° C is supported by sprayed disinfectants. Normally SIP is equipped with the same installation as CIP which is the previous cleaning step. Particularly in the pharmaceutical industry SIP is a prerequisite for high quality products.
Legally there is no difference to CIP, however, WIP generally based on lower hygienic standards and less stringent validation requirements. A much higher amount of manual work and a high level of disassembly are required here.
In contrast to the CIP / SIP applications WIP systems are characterized as cost-effective solutions, but due to higher effort they are considered subordinate in industrial process engineering.