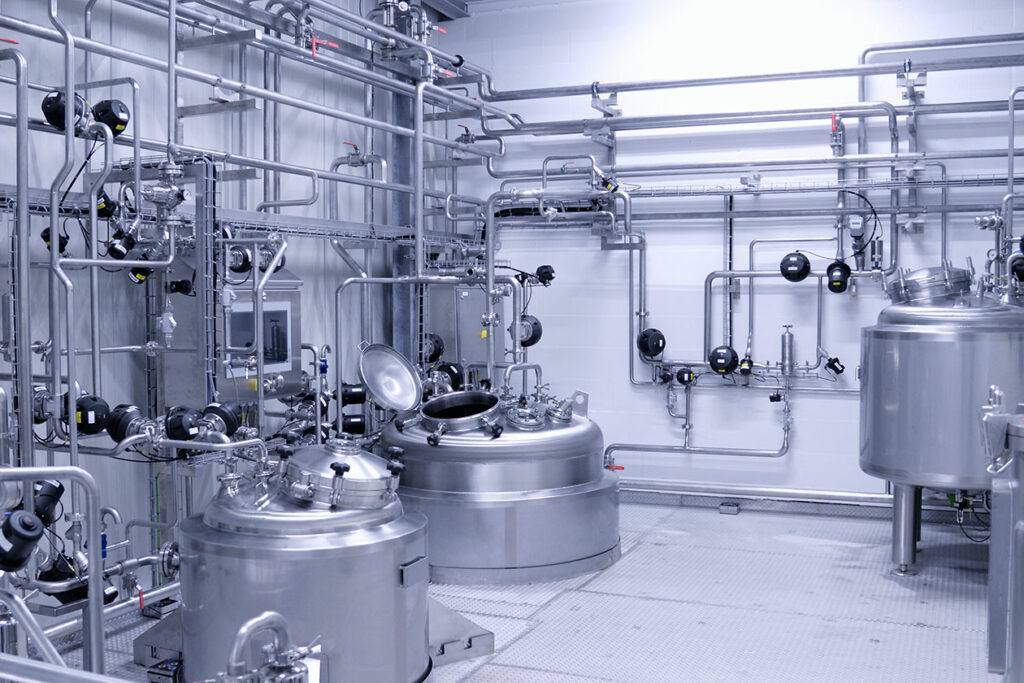 Wellmann Engineering supplies high quality systems for the distribution of AP ("Aqua Purificata"), WFI ("Water for Injection") and pure steam.
The cleaned medium is stored and then transported in a distribution system up to the extraction points.
Wellmann Engineering develops individual process systems according to each customer´s requirements always with product safety in focus. We offer solutions for cold and hot storage. The distribution through ring pipe systems (Loops) ensures a turbulent flow and the hygienic design without dead spots prevent the formation of germinals and bacteria.
Our systems are completely made of stainless steel and are orbital welded. In combination with control systems developed by our automation experts a high degree of product safety is ensured.
Scheduled sanitisation of the entire storage and distribution systems is processed either cold (by addition of ozone) or hot (by heating to >85°C).
What types of storage do we provide:
Cold storage at about 15-20 "C
hot storage at 65-80 ° C
Mixed system with hot & cold storage Subloops
How we connect the distribution:
Loop systems
Parallel cable systems
Main & Subline systems
Which properties we use to build our systems:
Ozone-overlay or sanitized at> 85 ° C
Compliance with a turbulent final blow (Re> 10,000) at a minimum flow rate of 1 m / s
Conductivity <1.1 µS & TOC <20 ppb
Pipe material stainless steel 316L, 1.4404 or 1.4435, surface roughness <0.8 μ
Minimum dead laying of the cable, while maintaining the 3D rule
Orbital welds to achieve a consistently high seam quality
Pipeline endoscopy
Creation of a database isometry
Pressure & tightness tests
Execution of IQ / OQ test according to GEP
PLC controlled by GAMP5, CFR21 / IEC 1131 Part 11 and including removal of management, monitoring and visualization
Stefan Eickel
Branch Manager Kamen
In the production of active ingredients in formulation systems sterility is a crucial factor for product quality. Wellmann Engineering offers high-quality formulation systems for liquid or semi-solid products as liquid drugs or cosmetics. The vessels are completely manufactured in high quality stainless steel. A hygienic design without dead spots ensures highest product safety.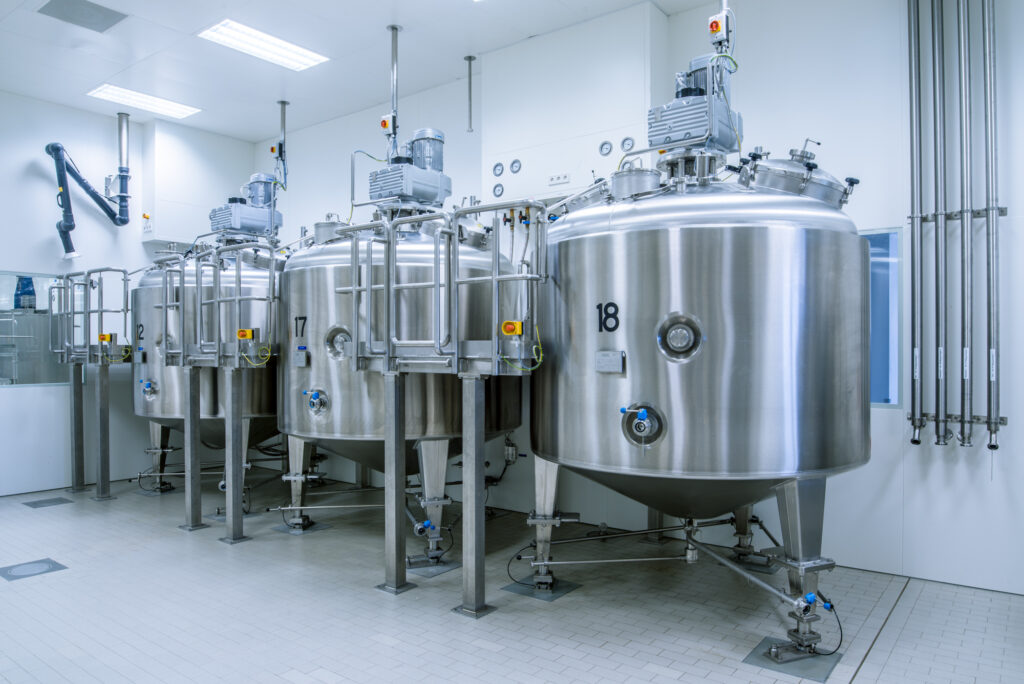 Which properties we use to build our systems:
Complete manufacturing in stainless steel 1.4404 or 1.4435, special materials available on request
Construction in hygienic design without dead spots
Surface roughness e.g. <0,8µm
Complete cleaning and drying without manual intervention
Compressed air or nitrogen atmosphere
Systems with stirrer, powder wetting or dispersing machines for mixing of solids
Precise dosing technique
In compliance with legal regulations: Federal Water Act (WHG), machinery & ATEX directives and operational safety according to SIL standards (Safety Integrity Level)
Qualification and documentation according to international guidelines
software for process control including recipe management, dosing and weighing system, connection to production management systems or SADA systems
Documentation according to GMP guidelines
Stefan Eickel
Branch Manager Kamen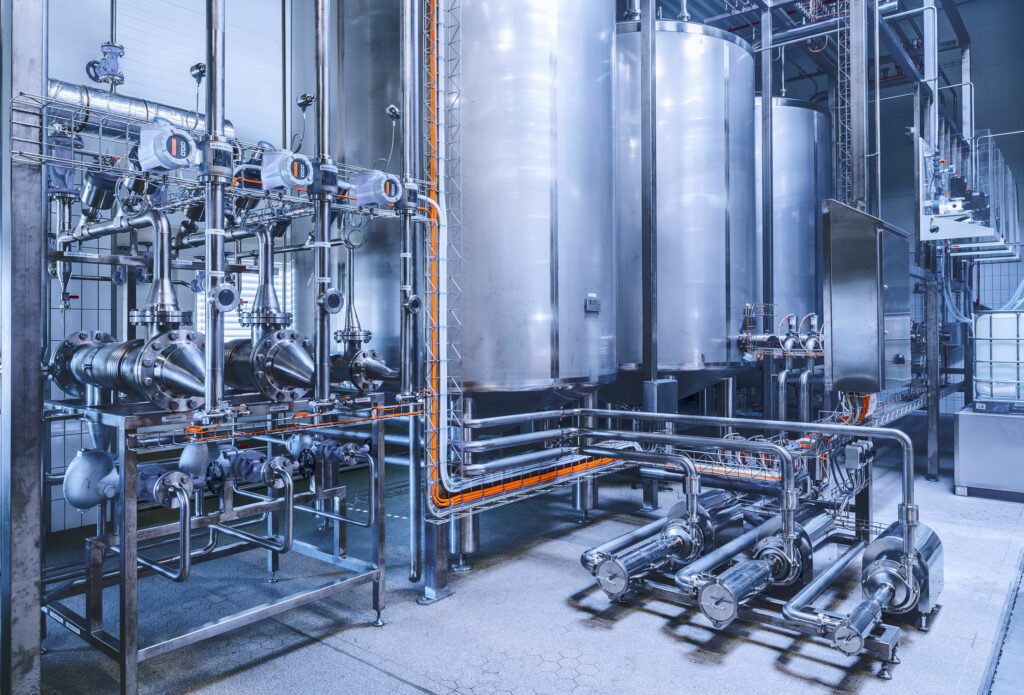 Usually CIP systems are fully automated, with fixed defined cleaning programs and variably adjustable temperatures.
Due to the high degree of automation a faster cleaning, water and detergents reduction and less effort is achieved. CIP systems are fixed units and require little or no assembly / disassembly work. By a programmed pre-purge particles are flushed out. The cleaning temperature is around 90°C depending on specific applications. After flushing, the pipelines and components are pumped with lye. After flushing with water, a final acid rinsing proceeds.
As a first step of cleaning, product residues must be dissolved and flushed out of the plant. Depending on the local conditions CIP-systems either operate with fresh supplied water at each cleaning cycle or with an environmentally friendly closed cleaning circuit. To prevent scorching or crystallisation, a temperature close to the production temperature is used, mostly cold or lukewarm. After a slow heating the cleaning lye is pumped through the plant system. Fixed parameters such as temperature, speed, concentration and time are thereby continuously monitored by measuring and control technology to ensure reliable control and documentation.
The lye is then flushed out with water. A subsequent acid rinse dissolves inorganic coatings, kills remaining microorganisms and neutralise any lye residues. A final step of purification is the disinfection which destructs any surviving organisms and is incessant for quality assurance.
The production of "Aqua Purificata" (= purified water) from drinking water according to Ph. Eur. And USP requires procedural processes according to the highest hygiene standards.
The production of high-purity AP water takes place through the process steps of softening, reverse osmosis and electrodeionization.
The individual measurement and control concepts developed by our automation specialists ensure continuous and efficient monitoring of performance and water quality even after long operating times.
All plants are documented and qualified according to international standards.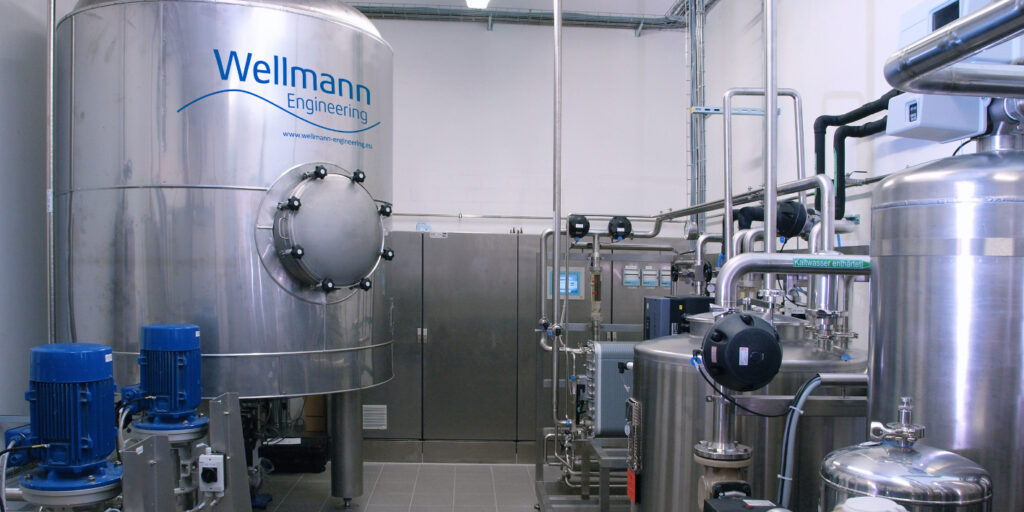 Which performance our systems provide:
Capacity from 0,5 m³/ h
Conductivity permeate < 1,1 µS/cm (20″C)
TOC < 10 ppb
Bacteria < 1 CFU/ml
sanitized to 85°C
Which properties we use to build our systems:
Pipe material AISI 316L, 1.4404 or 1.4435, surface roughness Ra < 0,8µm
Softening medium ion-duplex softener
Process-controlled UV sterilization
from single to multi-stage reverse osmosis
without chemical substances by means of electric deionizing
continuous TOC monitoring output with minimum response time
continuous Online Residual hardness analysis
PLC controlled by GAMP5, CFR21 / Part 11 and IEC 1131
Single-unit or Complete system including Pure media distribution system
Stefan Eickel
Branch Manager Kamen
The manufacture of products in the pharmaceutical or food sectors is increasingly subject to detailed regulatory requirements and must comply with IFS, FDA or European standards. These plants almost always require validation. As a plant operator, you must demonstrate for this that, within your entire process control technology, you work in accordance with specifications and your work can be reproduced.
We have taken these requirements into account in all phases of the qualification. We are at your disposal at any time during the design qualification (DQ), installation qualification (IQ), operational qualification (OQ) and performance qualification (PQ) phases.
Description of the entire planning phase for the DQ in order to comply with all overarching guidelines and laws including SIL, ATEX and WHG.
Specific work instructions (SOPs) ensure not only that processing complies with GMP but a qualified system status is also maintained.
Carrying out and documentation of necessary tests
Qualification of components and systems as well as drawing up of qualification plans and reports
Validation and therefore documented proof of critical procedures and processes
Needs-based management of the documentation process and documentation structures
Software qualification/validation under GAMP
Drawing up of maintenance and calibration plans
Johanna Petranowitsch
Project Engineer